This football season has had it all. Sackings, amazing goals, shocking comebacks and high use on the newly featured VAR. It also marks the end of some great careers and the beginning of new ones. Small clubs have made it to the top and top clubs have disappointed. Here are 7 of the key results of the 2018/19 season.
Ajax Shows It's Worth
The Amsterdam based club had absolutely shocked everyone by reaching the semi-finals of the UEFA Champions League and beating top clubs like Juventus and Real Madrid in the process. Their abundance of young talent like Frenkie de Jong, Matthijs de Ligt, Hakim Ziyech, David Neres, Dusan Tadic and Donny van de Beek provide a perfect flexibility of midfield and strike which gives them a really unstoppable attack and midfield, and allows them penetrate defences.
Looking at the changes they did over the previous season by making Erik Ten Hag their manager, has changed the playing style of Ajax from their traditional 4-3-3 to a flexible 4-2-3-1 with a wide range of midfield space for attack and defence. It also gives huge space and freedom to the wingers, Tadic and Ziyech to move the ball around and play it inside where the forward, Neres spearheads the attack with 2 wingbacks, Noussair Mazraoui and Nicolás Tagliafico also helping the ball get into the middle. These young players play with a modern outlook and do not rely on the old-school tactics like Park the Bus.

Players have sparked the interest of top clubs like FC Barcelona who have started negotiating for them. I feel this is the problem with the club. Whenever Ajax plays a good season, big clubs are always there to take away the young talent and teach them a new style of play, preventing them to mature in the classic Dutch style. Frenkie de Jong has been bought by Barca for 67.5 million Euros and de Ligt is reportedly in contact with Barca too. Ajax have a bright future if they are willing to retain their players.
Introduction and use of Video Assistant Referee (VAR)
The VAR technology joined all other football technologies (such as Goal-line technology) in the FIFA World Cup 2018 on 16 March in Bogota marking a big change in the making of decisions when any uncertainty would be cleared by it. Big decisions of the game were made using it changing the course of the match.
In the Premier League, it is being introduced from the next season but in the La Liga, Serie A, Bundesliga, Ligue 1, and MLS it has been introduced from this season. A total of 271 referee mistakes have been overturned by VAR. Penalties, red cards, fouls and disallowed goals have all been overturned because of it.
Personally, I feel VAR is the right step for the future of football technology, correcting mistakes and leaving no scope for human error (so that incidents like the 'Hand of God' don't happen again) and making the game of football fair again.Yet, there are instances where VAR is not used and the decision is wrong like in La Liga's Seville versus Real Betis where the former lost 1-0 to Betis where a penalty should have been given but VAR was not used and they lost. This loss could have been avoided and a point could have been given for the draw.
Fourmidable City
What an absolutely amazing season Manchester City has had! (Being a city fan, forgive me for being so biased:) ) They have made history by winning the domestic treble (FA Cup, EPL, and Carabao Cup (+FA Community Shield)). The all-star team under the leadership of the mastermind Pep Guardiola won every English title possible but disappointed in European competitions when they crashed out of the UEFA Champions League quarter-finals against the Tottenham Hotspurs.
Pep's tactics are unlike any manager. He uses the standard 4-3-3 but pushes the wing-backs – Walker and Mendy/Zinchenko, in the middle (inverted wing-backs) so that the focus is on the middle and suddenly the ball goes to the left wing (Sane) or right (Mahrez/Sterling). The speed of the wing is just too fast for the defence to recover and they put it into the middle for Aguero to finish. The key role of thisis to pass among the midfield, to put pressure on the defence so that they try to pressurize the midfield and that is when they attack. This is shown by their pass % averaging at 89.1%.
These tactics have absolutely baffled other teams which is the reason for their large wins such as 6-0 against Watford in the FA Cup finals, 6-0 against Chelsea, 6-1 against Huddersfield, 4-1 against Brighton,7-0 against Schalke, 5-0 against Burnley, and 9-0 against Burton Albion.
These players have adapted to Pep's tactics quickly when he joined after the dismissal of Manuel Pellegrini and the consistency is shown as they are the first tem in around 50 years (pretty sure it's not precise) to retain the EPL for 2 consecutive years. Most may say this is because of the money they have (which is kind of true) but it's about their mindset too.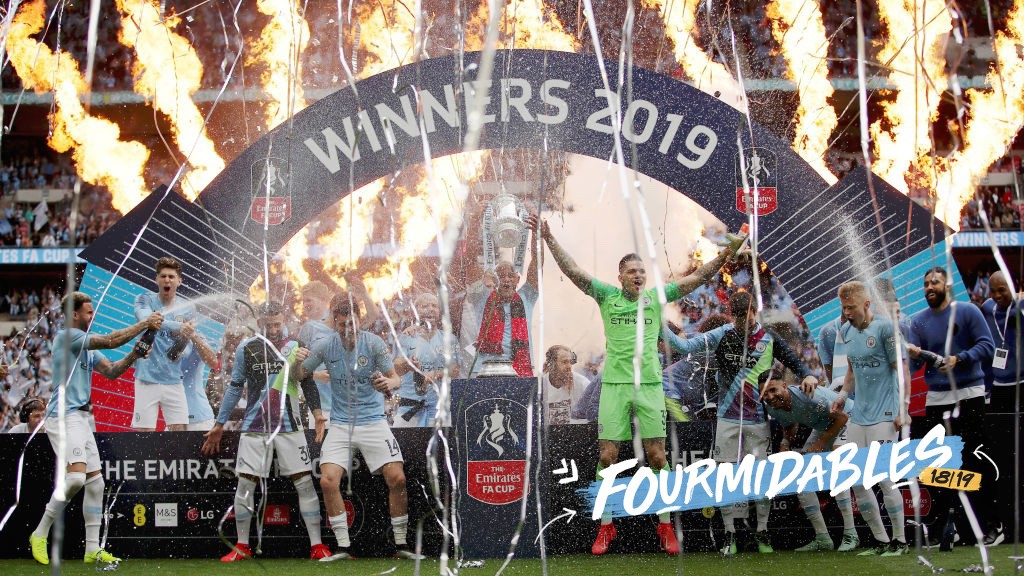 Disappointment from Real Madrid and Manchester United
Often, clubs hit a rough patch in which they do not perform to the expectations of everyone. This was the case for 2 big clubs – Manchester United and Real Madrid, who finished at 6th place and 3rd place respectively. This may not look bad but the stats show the reality. Madrid lost 15 matches out of their 44 matches which is only an approximate 63.63 win % which is quite bad. Man Utd lost 12 out of their 44 matches which is also not the greatest having a win % of 72.27%.
I think where Madrid messed up is the incompleteness of the team's forward due to Cristiano Ronaldo leaving to Juventus. The team has desperately tried to fill the gap with the likes of Vinicius Junior and Karim Benzema but it is clear that it is not working. Ronaldo is kind of irreplacable for Real Madrid. His stats in Real show it. 451 goals in 438 appearances and he is also Madrid's all time leading goal scorer. Many forwards such as Eden Hazard, Kylian Mbappe, Mohammed Salah and Neymar have been linked up with a move to this club but nothing has finalized yet. Bale and Isco have also played in this position but not fitted in it.
The main reason, I think for this is Zinedine Zidane leaving Real as their manager and Julen Lopetegui replacing him. Lopetegui did not do well at all and he was also replaced by Santiago Solari who tried to stabilize Real's fall, but the damaged was done. I think what they did wrong was not use the young talent and focused the play on the more experienced players. Although Zidane is back as manager, Real's ship has already sunk and he should utilise the summer to rebuild the team and get some new players in.
Manchester United stumbled in many aspects. Firstly, the manager for around half their season, Jose Mourinho was not making his players play upto the expectation. Although a decent manager for Chelsea, he relied mostly on old tactics like Park the Bus. Going to classic tactics is not bad but there should be a mixup between modern ones and old ones. Another mistake Jose did was keeping a bad relationship with the players. This was seen with his relationship with Paul Pogba and Anthony Martial. His removal from the team and the entering of Ole Gunnar Solskjær gave a bit of hope but it was already too late. United also gave less playing time to academy-graduates and instead sent them on loan to other clubs. The likes of Timothy-Fosu-Mensah, Andries Pereira and Alex Tuanzebe could be good for them. Mainly where they stumbled was the lack of good transfer signings. Players like Alexis Sanchez have failed to replicate their past performances with the Old Trafford Club.
These teams better pull up their socks, cause they'll have to play much better next season.
Close Race to the Trophy
2 leagues had an extremely intense race to the trophy with the deciders being on the last game. These were the EPL and Bundesliga. In both leagues the winners were down by a large margin, but caught up and won in the end
EPL: In the season of 2018/19, 2 top clubs fought till the end to win the league with one prevailing easily in the end. They were Liverpool and Manchester City, City winning the cup. From the start itself, both teams looked strong, City having a 14 match unbeaten streak in the start and Liverpool having a 20 match unbeaten streak. There was a small stumble for City though, around Christmas time where they faced consecutive losses to Crystal Palace and Leicester City while Liverpool kept on winning. By the end of January, Liverpool were up by 10 points and everyone thought the Prem was theirs. But it happened again….. They choked again (cough Steven Gerrard slip cough) . Liverpool did not lose to many teams, but drew to them while City just kept on winning. On the final day of the Prem, City played Brighton while they were a point up and Liverpool played Wolves. If City were to draw or lose while Liverpool would win then they would have won, but City won and won the Prem with 98 points with Liverpool just losing with 97 points. It was really a nail-biting last day but City kept their cool and won.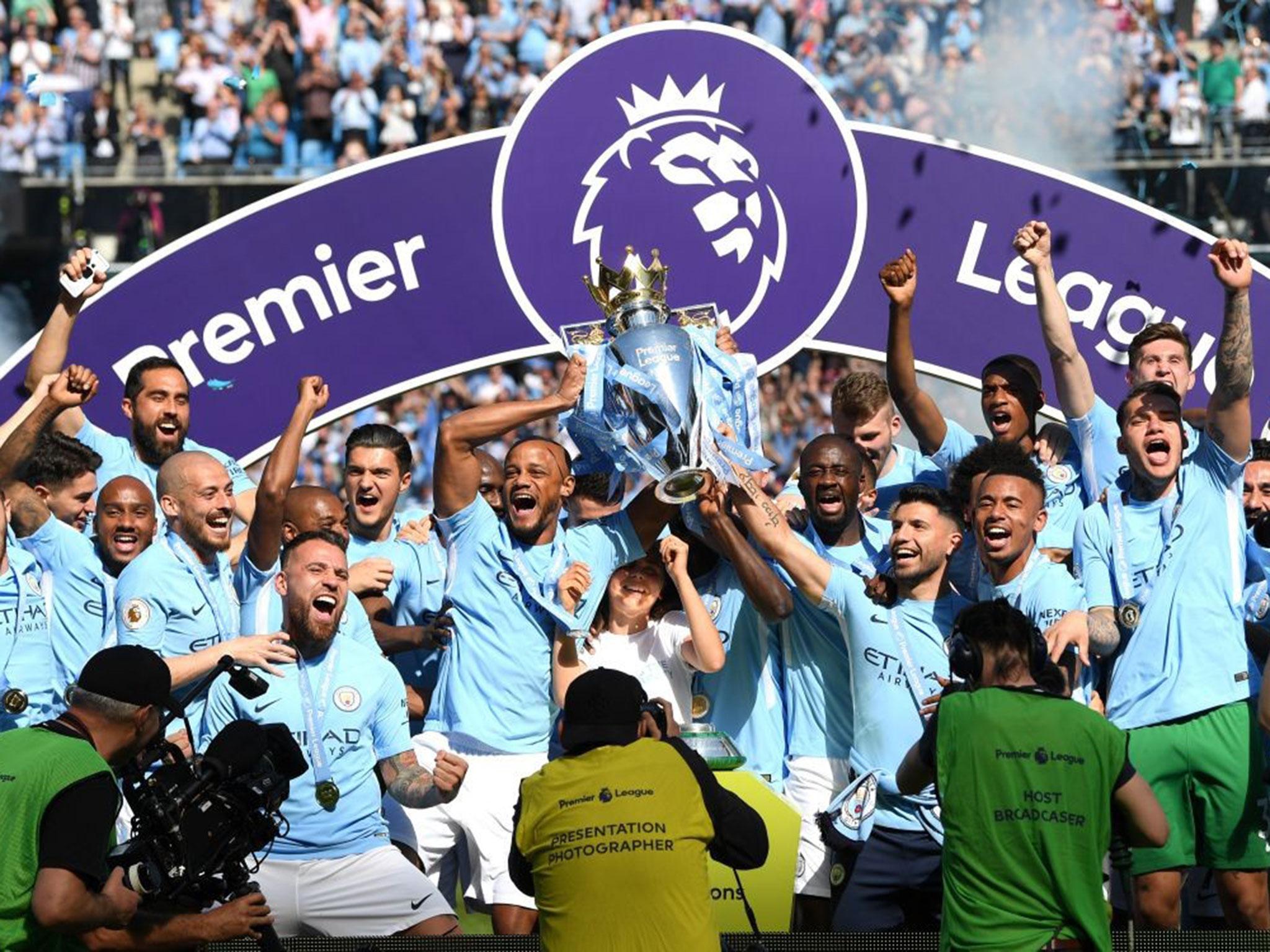 Bundesliga: The 2 top clubs of the German Championship had an extremely close race to the title win. Borussia Dortmund and Bayern Munich have one of the best rival-history in the Bundesliga. Bayern did mot have a good start in the beginning of the season losing suprisingly to the likes of Hertha, Monchengladbach and also losing in the first Der Klassiker of the season, but during the second half of the season they got back, losing just 2 matches. Dortmund on the other hand had a dreamy start of the season, having a 26 match unbeaten streak!! This streak was filled with draws though. In fact the whole season was filled with draws while both, Bayern and Dortmund having the same number of losses. Both the teams were going at the same pace, but Dortmund stumbled in their second last match against Schalke where they lost. This put Bayern 2 points up and they won.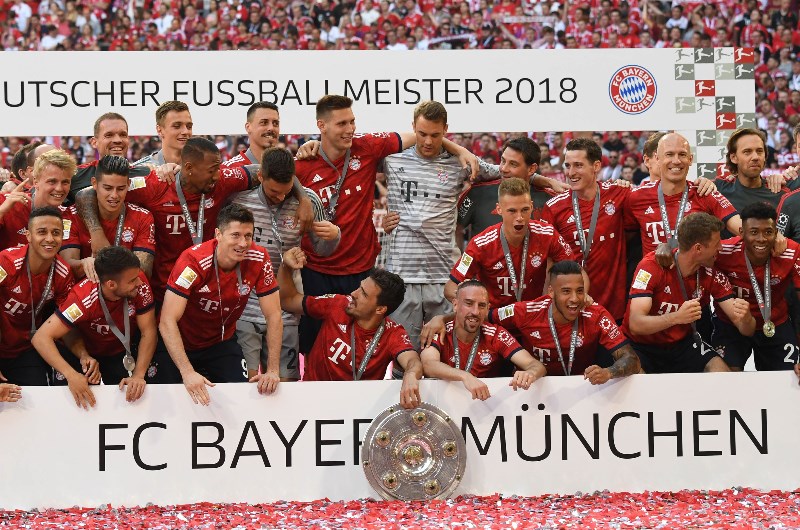 Amazing Comeback
This season has had some brilliant comebacks from teams, the most notable being Liverpool against Barcelona in the Champions League semi-final, and Tottenham versus Ajax also in the UCL semis.
The 2 legs of the UCL knockout rounds really can make changes in the teams game. The home and away environment in the stadium makes a difference. This happened in Liverpool and Barca. The first leg in Camp Nou was quite shocking for all fans when the home team beat the away one by a quite large margin(3-0). Everyone thought this would be a comfortable win for Barca as Firmino and Salah didn't play too, but Liverpool didn't. They completely swept Barca at home (4-0) not letting the away team even score! Origi and Wijnaldum putting the ball into the net twice each. I think what changed was their attitude. Instead of relying on their defence and long-ball, they went all-out attack (they were desperate too). Barcas defence was just poor, Pique was a waste of a player that day.
Tottenham also made a great comeback against Ajax making it to the finals. In the first leg Ajax beat Tottenham by just a goal, with just van de Beek scoring away. In the second leg though, Ajax went up by 2 goals by the 35th minute. This means Tottenham were down by 3 goals and had around 55 minutes left. Lucas Moura just went into beast mode and scored a jaw-hanging hat-trick scoring in the 55th, 59th and 96th minute. I personally feel this comeback was better than Liverpool's as they had to score 3 or more goals in just 55 minutes and they did it!!
Beginning and ends of careers
Such newfound talent has been found and legends have retired. Clubs and fans will forever be grateful for these new and old players.
Speaking of the youngsters who amazed everyone, the first name would be the French footballer Kylian Mbappe. At the age of 20, he won the World Cup, the Ligue 1, and came second in the Golden Boot race with Messi first. His speed and ball control are just too good. Another young star would be Matthijs de Ligt, the 19 year old Dutch centre back. Captaining the young side of Ajax he has done a brilliant job as captain and defender. These upcoming years will really showcase his talent. A really special talent was seen this season who was Jadon Sancho. The 18 year old midfielder for Dortmund has really shown everyone his talent. He is averaging an assist every 30 minutes for his club. Other talents include the likes of Gianluigi Donnarumma, Lucas Hernandez, Trent Alexander-Arnold, Frenkie de Jong, Lucas Torreira, Marcus Rashford and many more.
Many greats have finished of their football careers this season or left clubs they have played for after many years. The lead center back of Manchester City, Vincent Kompany will be leaving to his home club Anderlecht becoming a player-manager. He will be leaving after 11 years playing 360 matches. Antonio Valencia of Manchester United will also be leaving the club mostly to MLS' DC United, once again playing with his teammate Wayne Rooney. Valencia had a 10 year career with Man Utd making 339 appearances. A Chelsea great Gary Cahill will also be leaving his club making 290 appearances in his 7 year career with Chelsea. Daniele de Rossi will be leaving Roma after 18 years making 619 appearances, Arjen Robben and Franck Ribery will be leaving Bayern Munich after making 303 and 429 appearances respectively. This marks an end to a dangerous duo. Diego Godin, Andrea Barzagli, Robin van Persie, Adrien Rabiot, Ander Herrera and Igniazio Abate are just some of the legends who are retiring.