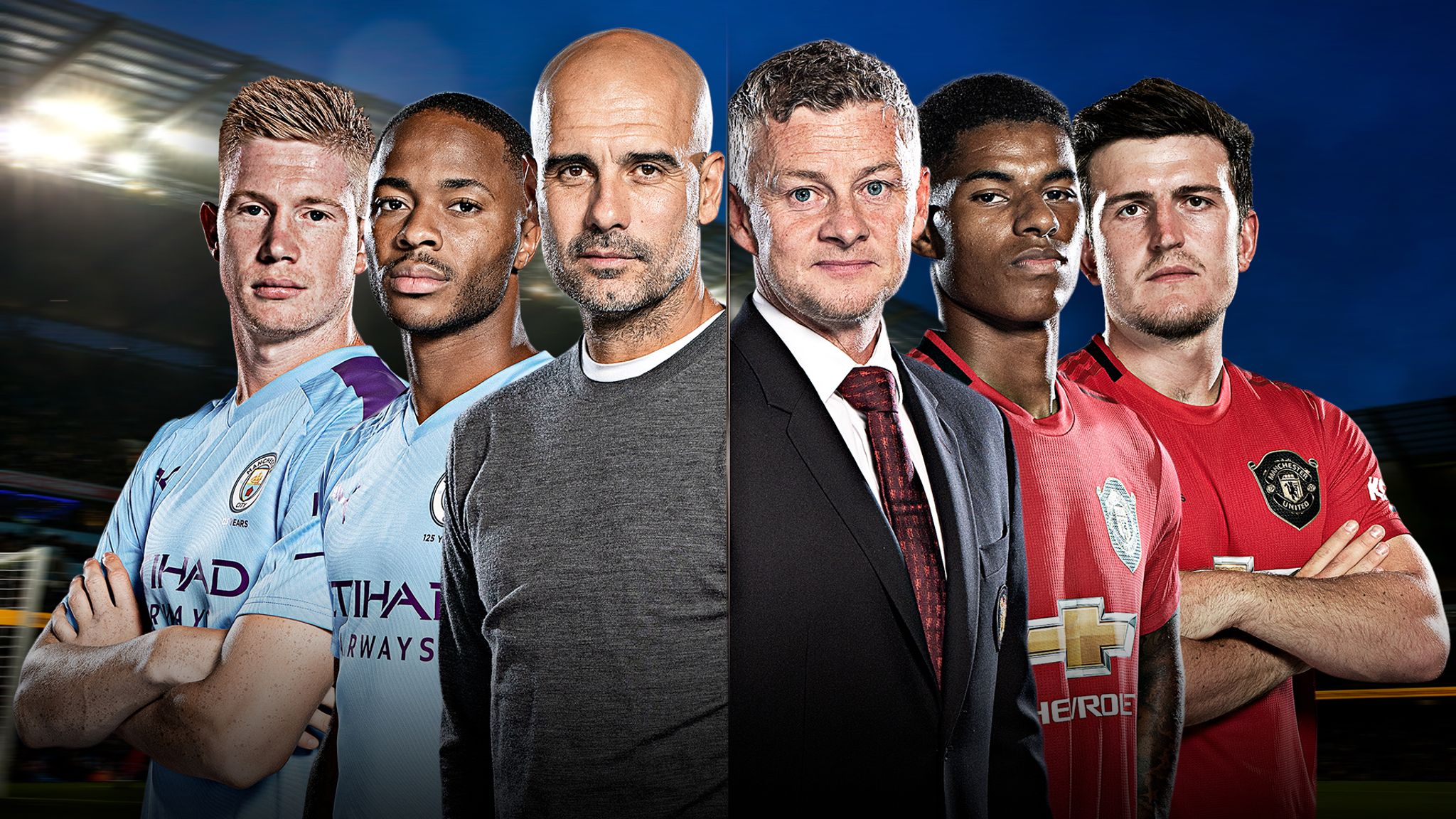 Manchester City versus Manchester United. One of the fiercest rivalry in the history of the Premier League with a history of over 130 years and more than 180 matches against each other. As of now Manchester United has had the lead in victories with 76 wins and City only with 54, but with the acquisition of City by Sheikh Mansour in 2008 there has been quite a turnaround in the squads development and City have been seen to make a turnaround with a total of 11 wins out of the 23 games played after the acquisition. As of now you can say these teams are perceived differently by different people, and that is what today's post is about. I have bought together 1 fan from each team to share their perspectives of the derby and their club fighting it out with the other fans. This is the first of the series known as Fan Battle where we bring out fans to prove which team has the advantage in what terms.
MEET THE FANS
Samarth is a 15 year old student from Bangalore who has been a supporter of Manchester United for about 5 years now. His interest in United sparked when he got a United jersey for his 8th birthday, got curious and watched a game. From that point he never looked back. His hobbies include playing football and is also on the school team
Saarthak is a 10th grader from Bangalore who as been a supporter of Manchester City due to his admiration of the team's determination to win. An example being City Vs QPR where, "they didn't give up, and they had the fighting spirit to win" said by Saarthak. He also loves playing video games and watching sports.
COMPARING THE PLAYERS
Both these teams have a long history and with multiple winning squads, choosing one which you love really tells a lot about the team.
Starting of with United, Samarth says, "Well obviously our treble '99 team comes to mind. With a solid defense of Schmeichel, the Neville brothers and Irwin, midfield class with Beckham and Scholes, and clinical finishing provided by Yorke and Nistelrooy, it was arguably one of the best teams in history. Honorable mention to '08 Ronaldo side and the Busby babes of the 50's". On the other hand, Saarthak feels the 2012 team of City was their best with Kompany and David Silva in their prime with Aguero in his brilliant opening season of 23 goals in the Prem and who can forget that banger against QPR. If we were to do a player to player comparison, I am assuming United's starting lineup would be Schmeichel at goal, Neville, Irwin, Johnsen, and Stam playing behind, Beckham, Scholes, Keane, and Giggs at mid. Finally Cole and Dwight Yorke in the front, keeping a 4-4-2 formation as they were seen playing most of the times
Regarding City, their most used lineup was Joe Hart at goal, Clichy, Lescott, Kompany, and Richards in the back. In the center field, Yaya and de Jong are seen as the DMs. As the LM is Samir Nasri and the RM is David Silva. I have put Aguero as the CAM/CF and Dzeko as the CF.
GOALKEEPER
Now to show what team is 'better', I am only going to compare player's stats of that season and then rule out the weaker player at that position. Following that I will compare the teams overall stats. Starting with the keepers, Hart vs Schmeichel. Now these 2 had a very good season. Joe Hart kept the most clean sheets in the season with 17 and a save percentage of 76.98%! He only conceded 29 goals in the season in his 3420 minutes of playing averaging 1 goal every 118 minutes only. That's almost per 1.3 games. In the Prem, Schmeichel had 11 clean sheets out of 34 games with a save percentage of 74%. He conceded 34 goals in his 34 matches played which is a goal per match. Now take in mind this only accounts for his saves in the Premier League. Statistic wise his Champions League was a little disappointing with 16 goals being conceded in 11 games but had 2 clean sheets. All in all you can decide who you think had the upper hand but remember that Schmeichel also captained that treble team so that gives him extra points
DEFENCE
Now it is quite obvious that City's defence was extremely weak compared to United's. Although I believe that there is one defender who maybe showed his worth as one of the better defenders than United. That is Vincent Kompany. In the 2011/12 season he was named Player of the Season with a 78% tackle success and especially in one on one duels where he successfully won 118 duels out of 176. Compared to Jaap Stam, these stats competely overrule his. The fact still remains that the other defenders had a better overall role. Special props to Clichy though as he had a 65% tackle percentage and made a 100 clearances in the season. Lescott also played extremely well with a tackle % of 91%. I think you can put Lescott up with Johnsen, but Irwin clearly overrules Clichy.
MIDFIELD
This is going to be quite interesting now as both these teams had an extremely effective midfield that were integral to their plays. First up, Ryan Giggs against Samir Nasri. So both of them were LMs and I will be comparing their goals, crosses and cross accuracy too. Throughout the season, Nsri played a total of 46 matches in all competitions and only scored 6 goals with 9 assists. This could be considered quite disappointing. He did only create 10 big chances and missed 3 out of them. On the other hand, Giggs played a total of 41 matches and scored 10 goals with 4 assists. We can see that Giggs played a more attacking role than Nasri who played the orthodox midfielder. These 2 were very close to each other in terms of stats and I think we can call this a tie. Now, David Silva versus David Beckham. Beckham played 55 matches overall with 17 assists and 9 goals. Now this is a true midfielder! Astonishingly, David Silva racked up 21 assists and 8 goals in his 49 games with 14 big chances created and a 70% tackle success. You may call me unfair, but I think Silva rules Beckham out on this one. Yaya Toure vs Roy Keane. Out of 42 matches played, Yaya scored 9 goals and made 11 assists which is average but he really made up for it in his defensive side with a 73% defence success and that is why you can mainly see him as a DM. Roy Keane though only scored 5 goals in his 55 matches without any assists which is really disappointing. It is quite obvious that Scholes would beat Nigel de Jong who did not make a valuable contribution to the team, while on the other hand Paul Scholes racked up 11 goals and 11 assists in his 55 games and clearly proved himself as the most successful midfielders of the United lot.
ATTACK
So there are 2 main attackers on each side. I will use the same rules to compare them. I will start of with Dzeko and Yorke. Edin Dzeko scored 19 goals in 43 matches with 9 assists as well. Yorke clearly beats him with 29 goals in 52 matches and with 20 assists as well. Thats more than a 50% shot accuracy! Aguero and Cole. Aguero scored 30 goals in his 48 matches that too on his debut season. you have go to give him props for that. Along side that, he made 12 assists. He clearly beats Andy Cole who scored 24 goals in his 50 matches with 7 assists.
THE DREAM TEAM
Here is my version of the dream team. Although I am quite confused between Giggs/Nasri. Let me know down in the comments who should I have put and why :). You can build your own and send them to me too using the website at the bottom of the picture or using this link: https://www.buildlineup.com/
TEAM STAT COMPARISON
Overall, each team played really well. But I am going to just compare their win % throughout the season. Man City had a 69% win by winning 39 games out of 56 in all competitions. Man Utd on the other hand had a 63% win %, winning 39 games out of 62. But you have to give extra credit to United for winning the treble which is really tough while also playing more games against top teams in the UCL when City could not qualify for the Round of 16.
I hope you guys enjoyed this and I aim to make more of these. So, wait for some El Clasico and some Der Klassiker battles from the fans. If you have any other opinion feel free to comment or have any tips on how to improve my content. Big shoutout to https://www.transfermarkt.co.in/ as most of my stats were taken from here and check them out if you want to see more. This has been Ishaan and stay home and stay safe.